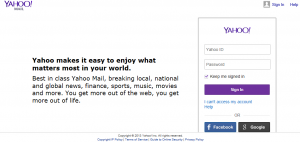 Ten years ago when I first created my Yahoo email account, I think I was in a computer training that time, the interface of Yahoo mail was so simple. It was just a basic web-based email; well organized for instance I just had to press Letter H for headings to go to different sections within a webpage. If I wanted to find a particular link I'd just press insert F7. Life was so easy back then.
Now ten years later, Facebook and Twitter were born; internet has changed a lot. Internet browsers are different than what they were like before. So many changes in HTML codes. There's now ARIA technology. HTML5 is being developed. Screen readers like JAWS for windows are being updated regularly to make sure their compatibility with other software. These changes were apparently seen in Yahoo mail accessibility. Many blind users of Yahoo mail felt these changes, so the majority of them decided to leave the service completely.
Now, you shouldn't just depend on your screen reader when finding links or clickable text. Sometimes there's this situation when I encountered a word without my screen reader saying anything. And when I tried to press enter, I was surprised when it acted like a regular link and I was brought to a different web page. Also in the previous versions of JAWS and the whole internet, you wouldn't click on a graphic unless JAWS says it's a graphical link. Now you might just hear JAWS say clickable or just graphic. Make your own judgement if you think you can click anything and you'd get surprised with the results try it.
How accessible is Yahoo mail now?
For screen reader users, Yahoo mail is not that easy to use anymore unlike ten years ago. It is very different in terms of website accessibility for screen reader users. When you're in your inbox for example, you can still use H for headings, T for tables and insert F7 to find links. However now JAWS users encounter objects on the website that they have never seen before, and I think this creates confusion for blind users especially JAWS users. But I would say that you can still use Yahoo mail if you are blind.
So how to use Yahoo mail if you are a JAWS user?
First sign-in to Yahoo mail and depending on your settings, you need to go to your inbox after that. The reason why I said that is because I set mine to automatically go to inbox after log-in to save time. Unlike before, we can't use our favorite navigation keys like H, N, T etc here. If you try to press those keys, you'd get different results now that the interface has changed.
Pressing up and down arrows here would highlight messages from your inbox and if you found the message you want to open just press enter. I will tell you a secret though. I'm not sure if it's just me but, pressing enter doesn't always work. Now always use the PC cursor in this situation. You need to exit application mode before you can read the message in its traditional HTML form. Here your headings (Letter H) navigation key is pretty limited as when I try to use it, I only encounter two headings and the second is the message section. Here you need to arrow down to go to the actual message.
To activate application mode again try to hit the escape key and if you hear the familiar sound like when you activate forms mode when typing on an edit field, that means you're doing it correctly and the steps are actually working so far. Here, when you are focused on a message,press the delete key to delete the message like in a regular file or folder on your local computer.
Other keyboard commands that I remember are letter F to forward, R to reply and N to compose a new message. You can also press the application key and you'll find the same options.
While the application mode is on, you can also press the tab and shift tab keys to go to different sections. Like when you want to go to your spam folder, just look for the mailbox section and select the spam folder from the choices.
When you want to sign-out just press tab and look for the appropriate menu where the sign-out button is located.
Conclusion
I'm sure there are few blind people who still use Yahoo mail today and I can understand why. But for those who still want to use this webmail, I'm going to share in my next post the steps on how to setup Yahoo mail in MS Outlook. But this post is to help those who still want to use the web version of Yahoo mail.
Yahoo mail accessibility is having issues right now, and I hope Yahoo is aware so they can fix those issues immediately. So that their users particularly blind people that use screen readers to access Yahoo mail can also benefit and enjoy the new features that they put on their site.