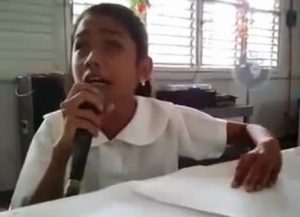 Actually this concept is not new to us visually impaired musicians. I remember almost fifteen years ago if my memory is correct, one of the singers of my band was also blind and she was also reading Braille while singing. The only difference then was well, we didn't have Youtube that time to upload her video. Unlike today that all you need is a cellphone with a camera, an internet connection and before you know it, you are already performing on Ellen DeGeneres show in America.
Who is Joyce Jimenez?
Before you watch her video below, let me first introduce this Joyce Jimenez, a blind girl from the Philippines, in Davao Oriental, in southern part of the country.
According to the information circulating on the internet, Joyce Jimenez is a Grade 5 student living in Brgy. Luzon in Governor Generoso town Davao Oriental. People who know her claim that despite her blindness, she's on top of her class. On her TV interview, she said that she couldn't believe that she's getting this kind of attention. She said that she was surprised with her popularity right now! I'm not sure about Facebook, but as of this posting, her Youtube video has reached 300,000 views already. In that interview also she said that she just wanted to become a professional singer. I think based on her status, that dream of her is within reach. I have a feeling that people are trying to convince Ellen DeGeneres to invite this blind girl. But for now, while Ellen is still trying to decide whether she would invite another Filipino on her TV show or not, there's this news that Gandang Gabi Vice (GGV) is going to feature Joyce Jimenez on one of their episodes this November.
Watch her video below and tell us what you think. In the video, she's holding a mic in one hand and the Braille lyrics in another.
I like her diction by the way
What about you, do you have something to say about the video? Did you like her singing? Did the idea of (reading Braille) while singing even amaze you at all? Tell me in the comments.