What happened before the orientation and mobility training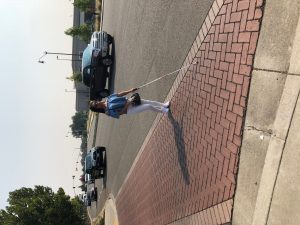 Hello my name is Sarah, and I am blind since birth. I am sure if you'll spend even just 30 seconds of your time browsing on this website, most likely you are going to discover some of my video performances; as I am a singer by profession, and being featured here regularly. But in this post I am going to talk about the orientation and mobility training I am currently enrolled in, which I think is so essential for people who are blind or have visual impairment like me. But before I begin, I'd like to share to you a short introduction about my life.
How did I get to where I am now?
Last 2015 — right after graduating in college, I left my home country which is The Philippines and move to California in the United States to be with my husband. Upon arriving to the airport, I immediately noticed how different the environment was in general — compared to the country where I was in.
Moving forward: If not because of the overwhelming support I have gotten from everybody here; beginning from my husband of course, his relatives and friends, even from some of our neighbors, the adjustments I needed for myself might not have been as this smooth. True enough, I have easily learned so many things already in just a short span of time being in this place. It helped me for the most part, that people actually treated me like normal; that me being blind is not much of a difference at all. For instance – they sort of trust my cooking; they respect my own decisions; they are willing to listen to what I have to say and most especially they follow some of my suggestions at times. To be honest — all of these things have made me feel good and encouraged me to improve myself further.
Moreover, I've also got a very beautiful and comfortable kitchen where I could better improve my passion in cooking and a nice music room where I usually make my music videos that are uploaded on this site. It also didn't take me that long before I've been able to familiarize myself with the overall layout of our house. As a result, I was able to immediately help my husband with the cleaning and other everyday house chores. Having said that, whatever challenges I may have experienced due to the sudden transformation that happened in my life were all lessened if not eliminated because of those positive things I've mentioned.
The Orientation and Mobility Training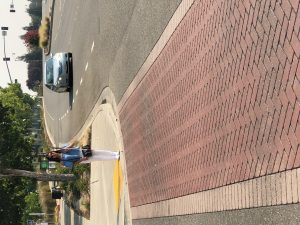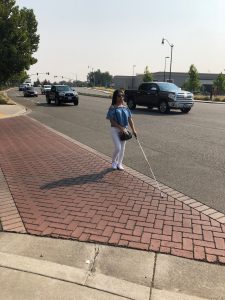 Soon I realized there's actually a huge problem. Yes, I am able to get out of the house regularly, but I could only do this whenever I am with my husband or other people, or whenever I take an Uber ride. This is why I immediately made the decision to look for any school which offers a mobility training and other courses for the blind.
To make the story short, I am now undergoing an orientation and mobility training (OM) with the help of a superb, professional instructor in our city. Her name is Sarah. What I like about her is that not only is she systematic with her way of teaching things; but also she has so much enthusiasm for everything! Maybe that is why, and this is according to her, I get the lessons so quickly. Of course, I think this is flattering to hear on my part as a student, isn't it? The training is still far from over, but I have experienced so many joyful moments already!
Actually, I am quite flabbergasted with the way I am progressing in the course; as I thought it would be months before I could even learn how to cross a busy street. Fortunately, with the determination I believe I do possess, plus the perseverance of my teacher, I must say I have successfully overpowered my fear and have felt more confident along the way. Above all, I know God will protect me and provide all the maps that I need so why worry…
Just to give you an idea of how the mobility training has been going for me
At first, I was in fact on the fence whether I could walk past even our own driveway. However, after everything was explained to me, a block away from our house became two blocks, and then it increased to a mile farther, until I was finally able to memorize the route towards the nearest bus stop. Furthermore, it is only recently when I learned how to ride a bus going into the downtown area. I hope that this will lead me to the nearest restaurants for me to get some treats I mean (rewards) for myself because of the job well done! LOL ok I digress.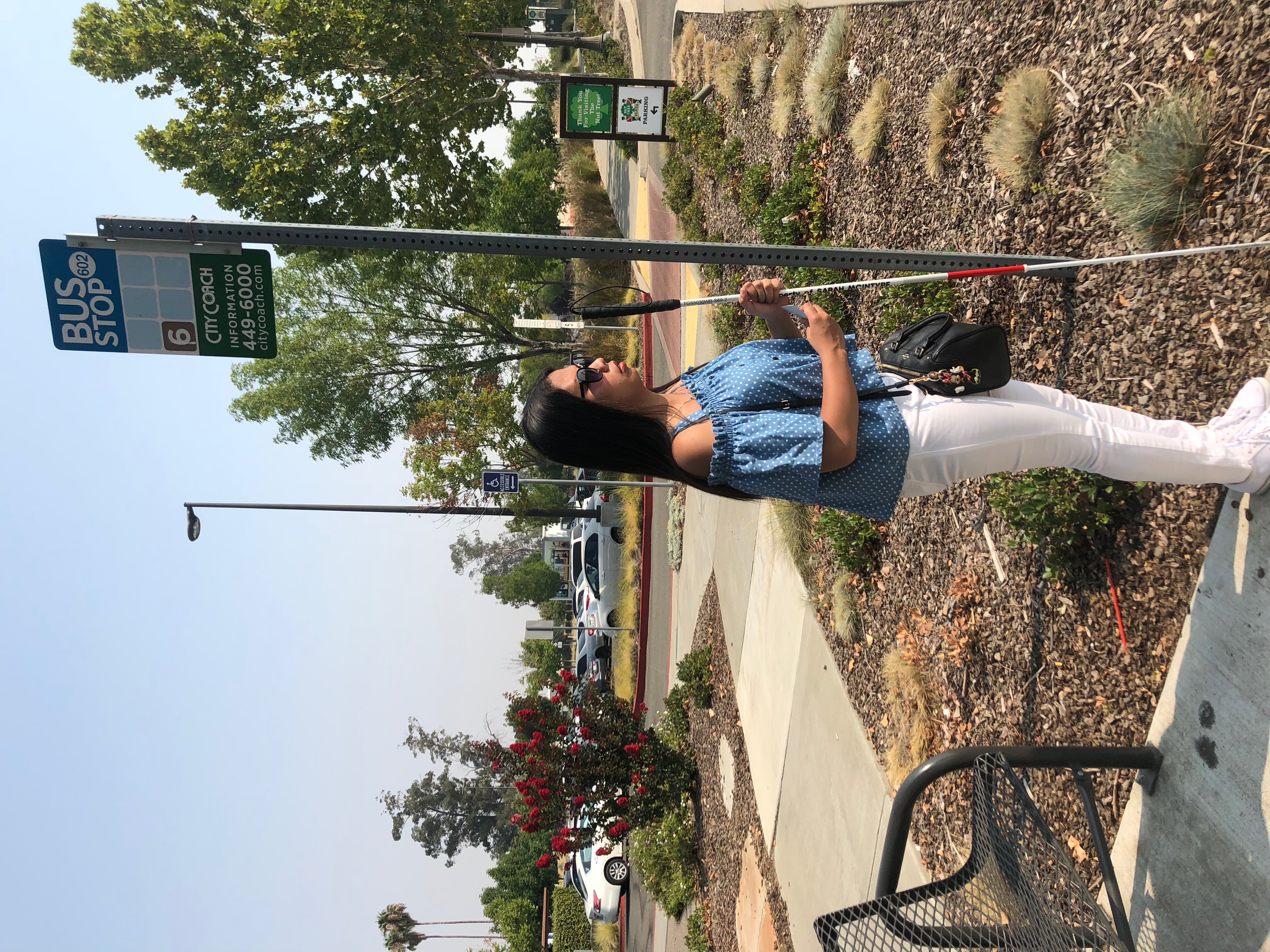 After every day of constant practice for almost two months, those baby steps I was once making have now become the giant leap for myself! I am proud and very thankful at the same time, that I have been getting wonderful help and support coming from the Lord Almighty, all those people around me; especially my loving husband, of course Sarah the instructor then my friends and family that are there for me all the time; always ready and super willing to supervise my improvements.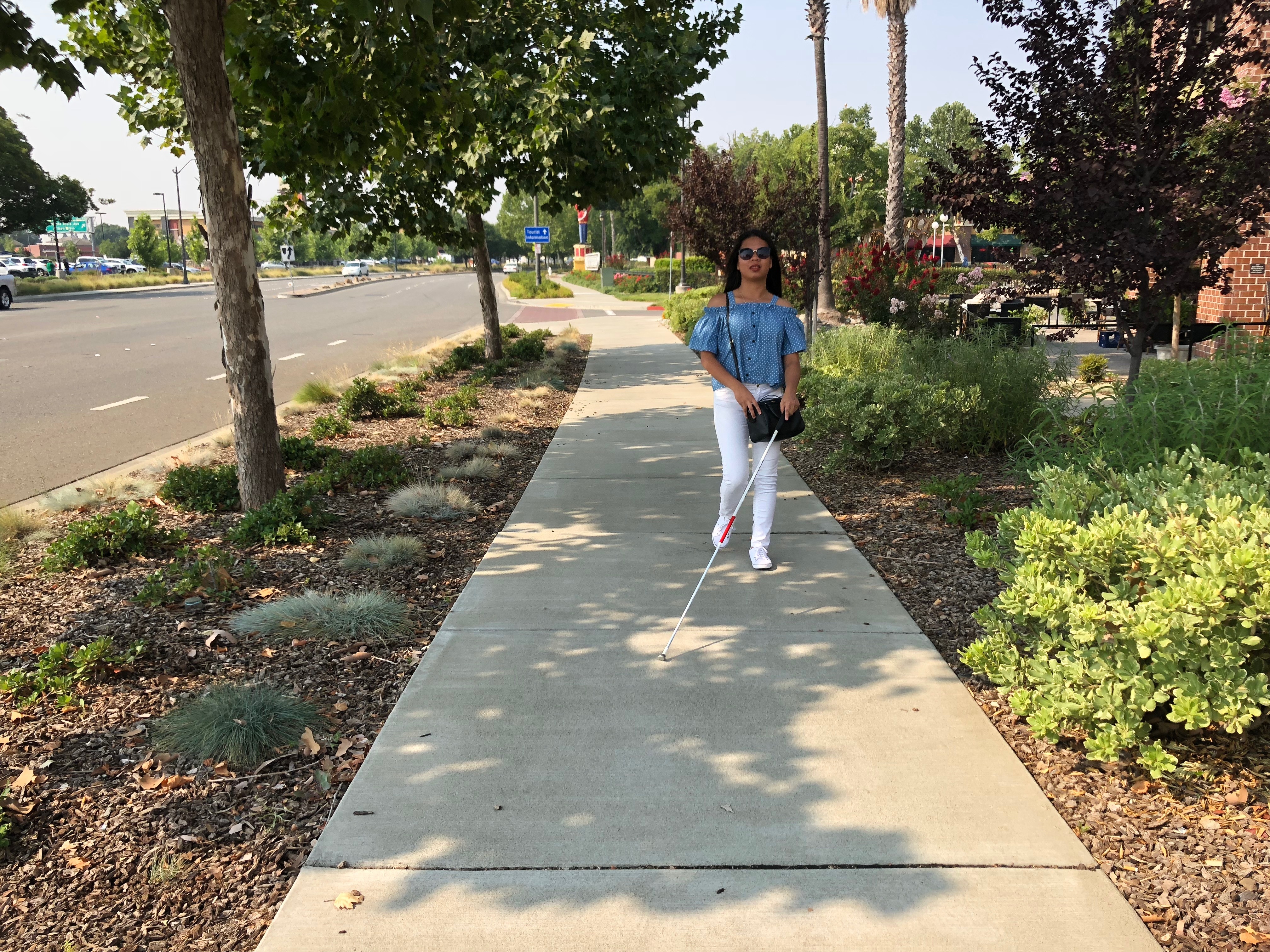 What happens after the mobility training
You know — I definitely do believe in the saying 'the only thing that can hold you back is yourself.' It sounds cliché I know; but it is for this reason why I did not let anything stop me from achieving my goals by way of praying and thinking positively — whenever I step out of our residence. I have promised myself to not give up [both literally and figuratively], in those situations in which all the knowledge I have gained all throughout would be put to the test. Because I am certain that it would eventually make me a better traveler in the long run; the moment I encountered all those cul de sac, obstacles, humps, bumps, canals and some other peculiar places, which I may run into during my amazing journey in life.