The recently concluded 2014 Philippine Fashion Week has given these two blind models, Arhjessa Tagulao Espiritu and Czarinah Michaela Mercado, both visually impaired, a chance to showcase their modeling skills. Using their white cane, they surprised the audience with their own versions of catwalk.
Above is the video from the Nationwide Organization of Visually-Impaired Empowered Ladies (NOVEL).
Visually impaired models using the white cane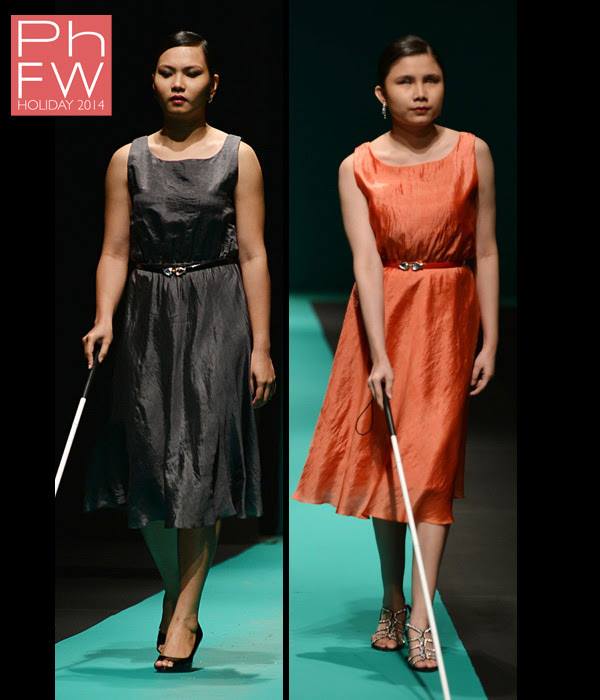 The text below is the full transcript of the video from NOVEL and PBU sub-committee on women.
Over many decades, woman advocates have brought significant progress in advancing gender equality in society. Their great efforts encompass their advocacy to empower their fellow women on their humanrights that fuel their drive towards productivity and growth.
Today, women are seen as someone who walks with freedom, independence, pride and confidence. But how about her? How can a visually impaired woman walk with freedom and independence, and be an agent of change like every other woman? What will she do?
The long white stick that the blind woman is using is a white cane. According to the World Blind Union, this white cane is the most commonly used mobility device by blind people and persons with low vision or those with residual vision. The white cane provides sufficient information to them to insure safe, efficient and independent travel in both familiar and unfamiliar environments. When used appropriately, it previews the environment to detect obstacles on the road that allows the traveler a sufficient time to stop or change course if necessary. Its length allows it to be used as a probe to extend one's reach for exploring the environment or detecting objects in front of them. Hence the white cane is an indication of ability as opposed to disability and serves as a symbol of independence, freedom and confidence of a person with visual impairment.
Countries across the globe recognize the humanrights andfundamental freedom of all persons with disabilities. This paved the way to the United Nations Convention on the rights of persons with disabilities or UNCRPD; the law that ensures, promotes and protects the exercise and enjoyment of all rights of persons with disabilities including persons with visual impairment in an equal basis with others.
The advancement of women in general is far more progressive than before. However, women with disabilities are left behind. Because of this, Article 6 of the UNCRPD was formulated to ensure its full development and advancement as well as enjoyment of their rights and freedom in an equal basis with other women.
For persons with visual impairment, the white cane is used to advocate the purpose of the UNCRPD. Globally, White Cane Safety Day is celebrated to recognize the movement of persons with visual impairment from dependency, to equal and full participation in the society.
In the Philippines, the law mandates the celebration of White Cane Safety Day through Republic Act 6759 also known as the White Cane Safety Day Act which is celebrated every first day of August. However, a one day observance is not enough to raise an effective awareness to society to empower and uplift the lives of persons with visual impairment and to make an ultimate impact for societal change. This became a benchmark of Disabled People's Organizations or DPOOs, and Non-government Organizations or NGOs, who work together to create programs beneficial for persons with visual impairment.
Women and girls with visual impairment are facing multiple discrimination because of their gender, disability and economic status. But with the use of the white cane, they are able to level to the playing field with their sighted colleagues. Rather than being dependent in an object of charity in society, women and girls with visual impairment would like to decide for themselves; have quality education, work in the corporate world, actively involve in the development of the community or even take a lead and leave a life raising their own family. Moreover, these women and girls don't want to be isolated. They would love to bond with their family and friends, they want to engage in sports and take exciting rides in amusement parks.
This advocacy is not an event to display persons with visual impairment. It is a reminder that the sector of persons with visual impairment and the public must reach out and support one another towards the full inclusion of persons with visual impairment in the society. It is about spreading the message, that persons with visual impairment specially women and girls have the capacity, ability and determination to walk with dignity, independence, freedom and equality.
Photo from Czarinah Michaela Mercado's Facebook account.