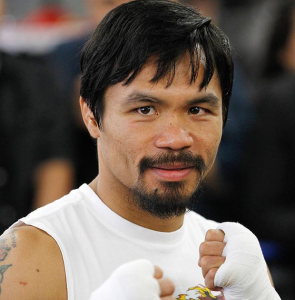 I write this article because when I watched (Manny Pacquiao VS Antonio Margarito) FIGHT, I was hoping that every blind Filipino fan would know how good Pacman is even without literally seeing him in the ring.
This is an interesting question that's why I encourage you to read this interesting article!
How does a blind person watch TV?
Actually he doesn't! (Watching is an act of following something with the eyes or the mind. For example, a performance or anything that is being shown meaning, requiring a person to use his sight). Watching TV, watching basketball games, watching the concert! So if you see a blind person in front of the TV set, what do you think he's doing? Listening to a movie? Yes and no. Yes because there's sound coming from the speakers and if there is sound, you can listen. But no because in his mind, he's not just listening but also, he is watching! He's attempting to form some images in his mind and imagine every move, every situation where the character is, and the special effects done in the movie such as rain, flood, gunshot or even those military airplanes bombing a town! But how does he know that? Simply by listening to any sound or conversation, he's able to interpret things and events in his own ways and in his own understanding. It's not hard I guess; if you're sighted, open any video file on your computer (movie is preferable), then close your eyes and try to guess what's happening in a particular scene and repeat it with your eyes open and rate your performance.
But what about Manny Pacquiao?
In every fight, when you apply that experiment I mentioned above, the results would be different. Because there's no special sound effects to interpret, there's no dialog between Pacquiao and his opponent, there would be no chance for a blind audience to know anything about the fight unless there is a sportscaster speaking in the background. So the best solution is to find someone who is willing to say anything about the current fight.
Today, in the Philippines, there are available options when you are a blind fan of Manny Pacman Pacquiao, the best boxer of his generation.
Radio broadcast
It is also applicable to other sports in the country in fact, PBA (NBA of the Philippines), can be heard through AM radio broadcast. This is by far the most effective way to help blind people who also want to know some information like in sports.
Online newspaper
Because of the available tools for the blind computer and internet users, it's easy now for them to read the latest news from the internet and share it to other blind friends. But the disadvantage of this is, a blind fan will know the details of the fight the time the information becomes available on the internet. So in short, most of the time, it's not in real-time.
Talking about real-time, there are websites usually sports websites offer a blow by blow text commentary about the current match for instance in boxing. Amazing? I know Yahoo has done it but I'm not sure if about this last Pacquiao fight if they still offer the service.
I appreciate those efforts because blind Filipino people benefit from them. I thank those organizations and companies because if not because of them, Filipinos who can't see wouldn't have any chance to be in the loop during big events like in boxing and other sports.
Manny Pacquiao, even we can't see you through our own eyes, there are people who allow us to see you through our minds.