From Czarinah Michaela Mercado's Facebook:
When you are thankful for what you have, you are always rewarded with more. And I am indeed thankful once again for this opportunity to speak and to share my life and my dreams. Thank you Ma'am Izza, Pastor Alex, Ma'am Carla, and
Ma'am Carmen, for without those people I would not be there. I pray that God will continue to shower blessings upon you.
As I stated, The world is changed not by the most talented people, but by the most determined.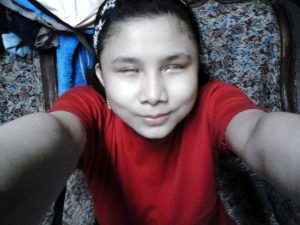 About Czarinah From Metro Sabado's Facebook:
"20 years of simple, yet colorful life"……These are the exact words of our blind model, CZARINAH MICHAELA B. MERCADO , a 4th year Business Management
student at STI Fairview, Q.C. Czarinah never knew what "blindness" means because she was born blind.

She was in the elementary grades when she asked her mom to tell her the name of
her school. Mommy Brenda said "school for the blind"..Czarina said, "mama, tagalugin mo nga!"…mommy Brenda replied, "eskwelahan ng mga bulag"…….and
Czarinah bravely asked, "bakit , bulag ba ako?"

Well, she has accepted the truth that she is visually impaired but her disability didn't stop her dream of being a beauty queen. She bagged three awards:
Miss Talent, Miss Personality and Best in Festival Costume. Her recent achievement is that of being a model where she became part of the Philippine Fashion Week. She became a model of Runway Productions where she modeled the creations of Audie Espino and Lyle Ibanez.

Czarinah is brave…she knows what she wants in life; she is focused and while driving with them along Edsa heading to Commonwealth Avenue that saturday…i
asked her , "ano sa palagay mo ang pinaka-matinding disability?". Czarinah answered, "ang pagiging bulag ata po ang pinaka magaan…mas mahirap ang hindi
makalakad".

GOD bless you Czarinah Michaela B. Mercado in all your dreams and endeavors in life. Thanks for sharing your story with the listeners and viewers of Metro
Sabado.
Source: TV5 Metro Sabado, Ako ay Ikaw Rin Facebook account
Photos from Czarinah's Facebook account