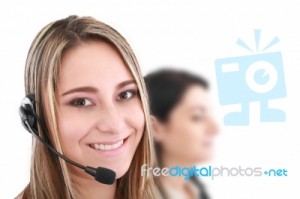 Because now a blind can use a computer with the help of a screen reader, there are people who think that it's easier to find jobs that's why they always encourage every blind individual to apply as a call center agent for example. But is it really possible today?Can a blind really work in a call center?
The Reality
I have a friend, she's blind and working in a call center for years now. But it's rare here in the country. Usually, blind people in the Philippines become transcriptionists, encoders, programmers, trainers, writers, web developers but not so much in call centers. Those VI professionals are very lucky to have those assistive technology or adaptive technology as they also call it, in getting those jobs. However, assistive technology may not always be the answer for any accessibility issues that persons with disabilities have. Large companies sometimes use hardware and software that assistive technology would not support and is usually one of the reasons why blind job seekers are having a hard time in finding employers that can hire people like them.
Another issue is about transportation. Most blind Filipinos can't travel alone because of different factors. Unlike in other countries, we do not have guide dogs here in the Philippines. However, everybody here is trained how to use a cane but still many are not willing to travel without a guide maybe because of their mindset? Or because of their parents. One big factor also is the environment. Lack of awareness of some drivers of public vehicles, lack of accessibility features in some places and many more. Because of those things, many of us have chosen to consider online jobs or what they call home based jobs using Skype or other VOIPs because of the advantages and benefits like the comfort they can get from this kind of setup. But I know some VI Filipinos who still prefer if given a chance, to work in a normal office setup.
I know there are also some BPO companies using the power of internet meaning they hire home based technical support representatives, outbound call center agents, data analysts etc. And all they require is a stable internet connection and powerful PC. But again, blind applicants should check if the software that a company uses is accessible so that they can talk about it with their employers if there are some adjustments that should be made or any considerations before they get hired.